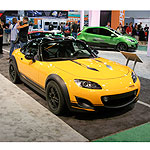 Racing Beat teamed up with Mazda USA during the 2011 Las Vegas SEMA Show on both the MX-5 Spyder and MX-5 Super20 project cars. Both vehicles featured Racing Beat Power Pulse Exhaust Systems, Racing Beat Exhaust Headers, and front and rear tubular sway bars.
The Super20 gets a fresh coat of paint this year as it makes it return to the SEMA show sporting flat black accents and a vibrant yellow outer skin. Under hood mechanicals remain the same with the standard 2.0 engine sporting both an RB header and exhaust.
The MX-5 Spyder featured a skimpy, weight-saving, low-profile fabric top, which begged to be removed for a more thrilling romp. Powered by the same MZR 2.0-liter four as the Super20, this engine differs as it's been weened to sip BP isobutanol biofuel while breathing through a Racing Beat intake, header, and exhaust muffler.