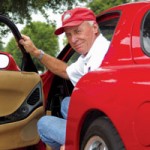 It's with great sadness that Racing Beat announces the passing of co-founder Jim Mederer. After a lengthy battle with cancer, Jim passed away peacefully at home with his business co-partner Takayuki Oku at his side.
A true pioneer in the early development of the rotary engine for use in a variety of industrial, aviation, and automotive performance applications, Jim's relentless and insatiable desire to create new advances in rotary engine performance led to numerous racing endeavors, with major accomplishments including an IMSA championship, victories at the 24 Hours of Daytona and 6-Hour Mosport endurance events, and three (3) Bonneville Land Speed Records.
In the late 1980s and early 1990s, Jim turned his attention to almost single-handedly building a mountain home for his mother, Mary Lou, and later, a home for himself in nearby Anaheim. An accomplished pilot, Jim hand-built and flew his Glassair plane often to visit his mother at her mountain home.
Jim will be remembered as quiet man with a big presence, a kind and generous heart, a voice of reason during difficult times, a firm resolve in his beliefs, a competitor's spirit, a passion for all things mechanical, and a life driven and guided by his deep faith.
Although the Racing Beat organization is saddened by our loss, we all cherish the years spent learning, growing, and working alongside Jim. He will be missed.
We invite you to share your thoughts and comments below.